Sale: 12% off Maxlight lamps | Code: ML22823 |
*
Conditions ⇒
Outdoor lights & garden lamps: Stylish lighting for the outdoor area
Outdoor lamps for home and garden
Exterior lighting fulfil a variety of functions. In the dark evenings and at night, for example, they ensure safety on roads and pavements. Perfectly staged lighting underlines the character and atmosphere of a house.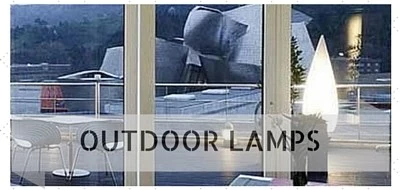 For example, light and shadow plays can be staged in flower beds, the facades of the houses can be structured and the paths in the garden can be transformed into a sea of lights. Of course, the house entrances can also be designed effectively and invitingly with the right outdoor lamps. The possibilities for decorative design are therefore almost limitless.
Outside lamps are still preferred in the areas of courtyard entrances, terraces and garden paths, where they primarily ensure safety. Those who go one step further can even turn their garden into a second living room with outdoor lamps. For this it is only necessary to include the exterior lighting specifically in the design of the garden. Then every property owner can transform the outside area of his house into an oasis of well-being that invites you to linger until the late evening hours from spring to autumn.
The different types of outside lamps
Because outdoor lamps are extremely diverse, they are also available in a wide variety of versions. For example, there are models that can be mounted on walls, pillars or ceilings, as well as models that are easy to lay down, put down or install. Other versions, for example, can simply be plugged directly into the ground (e.g. spike luminaires). With pond lamps, on the other hand, all types of water can be effectively staged. Incidentally, recessed floor luminaires with which the entire driveway can be illuminated are particularly effective.
High-quality LED outdoor luminaires are not only low-maintenance, but can also combine energy efficiency and durability. The use of LED outdoor luminaires is recommended above all in areas that are difficult to access and in combination with high-frequency switching times using motion detectors.