Sale: 12% off Maxlight lamps | Code: ML22823 |
*
Conditions ⇒
Recessed spotlights | Downlights
Recessed spotlights emit their light downwards. They are therefore ideal for places in the home where excellent illumination is required but little place is available. The recessed spots can be used in many models both as recessed ceiling and wall luminaires.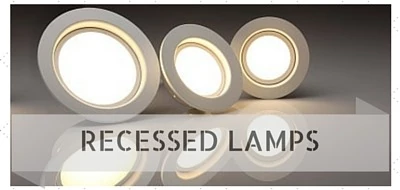 While they provide good lighting in the bathroom and kitchen, recessed lamps can be used optimally as accent lighting at stairways, in the corridor or bedroom, creating a very special atmosphere - it can rightly be said that recessed ceiling luminaires can illuminate entire wall surfaces.
Depending on the desired area of application, recessed spotlights with all common light sources are offered. Due to the good quality of light, halogen lamps or LED lamps are mainly used in living areas. It is advisable to arrange the luminaires early enough in the planning stage so that the required supply lines can be laid in good time and the pouring pots in concrete ceilings can be taken into account.
An important factor for the purchase decision is also the question of whether the respective lamp can be swivelled. This has the advantage that the recessed luminaire shines in different directions, which is why no angle in the room remains dark.
LED recessed spotlights prove to be extremely energy-saving and practical. Dimmable recessed luminaires, especially for the dining and living room, are also in demand. Recessed spotlights with a recessed inner frame are particularly clever because they are glare-free. A high level of visual comfort is the pleasant consequence of choosing this solution.
This makes installation very simple
The simplest way to install recessed luminaires is in suspended ceilings in the interior, which are covered with gypsum plasterboard. However, the installation depth must also be taken into account. Here the rule of thumb applies: the recessed lamp should have five centimetres of air on each side and above. If the ceilings have an insulating layer, lamp housings with heat protection are the better choice. If halogen lamps are installed, the safety instructions of the manufacturer must be observed for fire protection reasons, because halogen lamps have a transformer that can heat up strongly.
Advice: recessed luminaires in the ceiling with directed light radiation should be better installed near the wall: This way they light up the wall and receive beautiful light accents. Directional light on the floor makes little sense. The same applies to recessed floor luminaires: Placed close to the wall, they create interesting effects. A maximum output of 35 watts is sufficient. LEDs with white or coloured light are ideal for recessed floor luminaires in the centre of a room - for example in bathrooms or corridors. They should be covered with frosted glass.