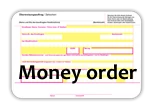 Payment by money order with 2% cash discount


After your payment has been received on our account, your goods will be shipped as soon as possible according to availability. We kindly ask you to transfer the amount within one week after your order. Please note that it can take up to 2-3 days, depending on your bank account, until a payment is credited to our account. If you want a fast delivery, please choose Paypal as payment method. If we have not received any money within 10 days after receipt of your order, your order will be cancelled automatically and completely free of charge.

The delivery of goods will be carried out after receipt of the amount on our account. For payments in advance/bank transfer we grant a 2% discount on the gross order value of the respective order.

You can find the bank details in our order confirmation which will be sent to you by e-mail.

For bank transfers from foreign countries:
Please note that any resulting bank transaction costs not charged to us. "Free of charge for the beneficiary."
Please understand that any bank charges for a transfer order in full must be borne by you. If the amount received in our bank account differs by one bank fee, we reserve the delivery up to the complete payment of the order value.