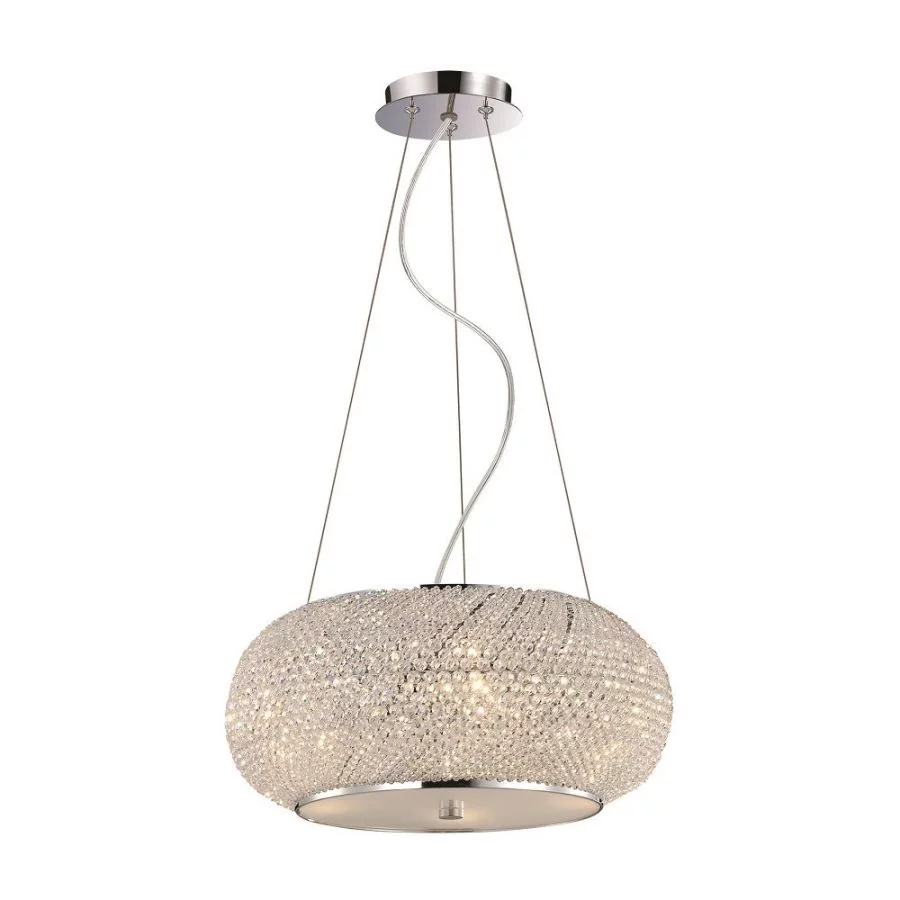 Ideal Lux crystal pendant lamp Pasha chrome 6-flame
Charming pendant light Pasha SP6 with crystal pearls
The Pasha collection is perfect for you if you prefer elegance and glamour. The round lampshade is made of threads with cut crystal beads and ends at the bottom with a sandblasted glass plate. The frame of this pendant lamp is formed by a frame made of polished chrome to which 3 height-adjustable steel cables are connected, from which the pendant lamp is supported and can be adjusted in height.

The lamp is operated with 40W incandescent bulbs (E14 with screw base, e.g. clear candle) or LED E14 candles which can be dimmed of an external dimmer if required. The light sources are aligned in such a way that the light can be refracted perfectly and offers the observer a spectacular light show in the overall impression.

Matching the pendant luminaire, a round ceiling luminaire is also available in the "Pasha" series. Enjoy the moment that makes your room shine with "Pasha".
An brilliant luminaire that will find its place in your living room, kitchen or at the dining table.

The "Pasha" series is available as a pendant lamp in three different diameters:
Pasha SP6:  Ø 45cm x E14 max 6 x 40W
Pasha SP10: Ø 55cm E14 max 10 x 40W
Pasha SP10: Ø 65cm E14 max 14 x 40W

Frame colours: chrome or gold
Pasha collection: suspension lamp and ceiling lamp

More articles from Ideal Lux
Type: pendant luminaire
Manufacturer: Ideal Lux
Style: modern/classical
Material: chrome-plated metal, sandblasted glass, crystal pearls
Glass colours: transparent
Canopy: chrome
Dimmable: yes (via external dimmer)
Protection class: IP20 (luminaire for indoor use)
Dimensions: Ø 45 x H min 28 / max 148 cm
Light source: 6 x max. 40W E14 230V candle bulb - clear (exclusive light source)
Can also be operated with E14 LED bulbs.
Energy class: A++ to E
The illuminant is replaceable.
 
This product is compatible with (for example):