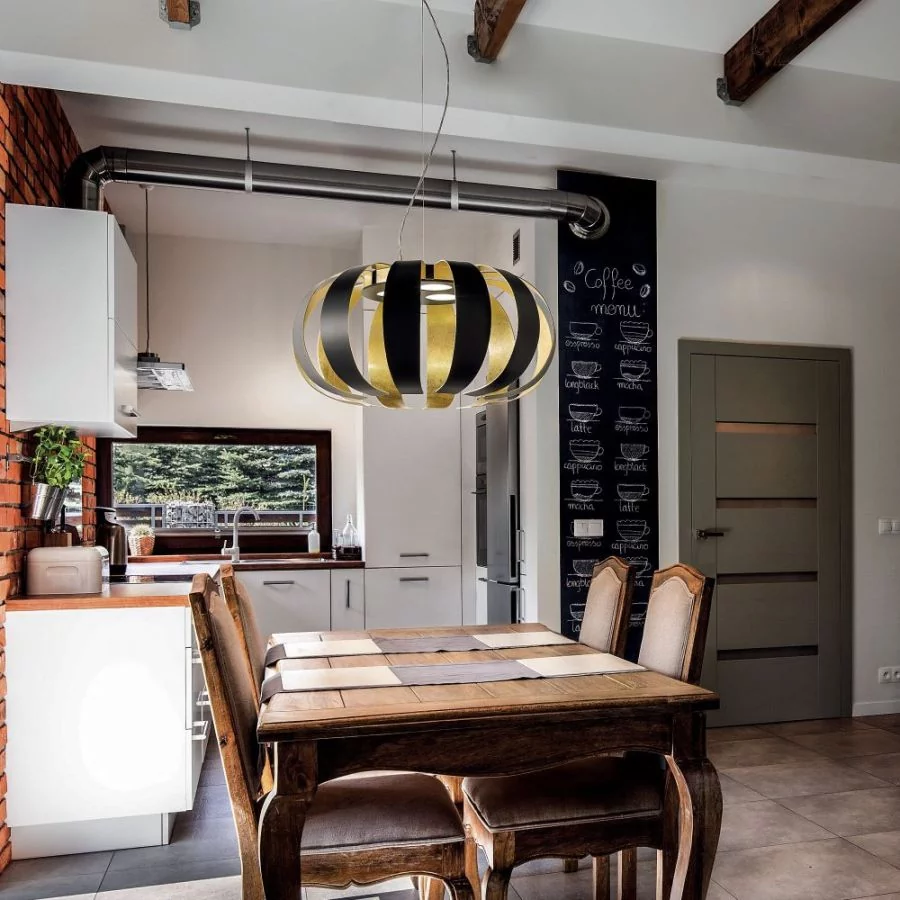 Braga Geo LED pendant lamp black gold S40
Dining table lamp Geo - the jewel for your dining room
LED pendant luminaire Geo from Fratelli Braga Illuminazione creates modern light for a cosy, pleasant ambience. Available with a diameter of 40cm, Geo can illuminate various tables and areas well and provide individually suitable lighting conditions. The fixed 15W LED illuminant with 1100 lumens (equivalent to 1x80W incandescent lamp) provides a warm white light and is perfectly protected by an opal white cover. 

Energy-efficient, the result is a beautiful interplay of light and shadow. The possibility of dimming means that further lighting variants can be realised. 

The suspension lamp is modern, but still looks playful. The ball-like shape and the colours white, black, silver and gold make it a very special piece. Whether at dinner, above the desk or in the conference room, dimmable and flexible in height, Geo stands for beautiful, individual and modern light, which at the same time invites you to feel good. The warm white light lets the sun rise in the room and brings a good mood. 

A modern and unique pendant lamp that fits in every living room, dining room, kitchen, bedroom, practice or hotel.

Geo pendant light features:
- size Ø: 40cm
- dimmable (phase dimmable)
- Color: outside in black, inside: gold leaf
- LED light color: 3000K warm white (standard)

If you need a different colour, please send us an inquiry

» More Braga lamps
All luminaires from Fratelli Braga can be ordered in our online store! If you do not find the desired article in our assortment, please send us an inquiry
Manufacturer: Braga Illuminazione
Country of origin: Italy
Material: metal, methylacrylate
Colors: black / gold leaf
Light source: 15W LED 230V (inclusive)
Luminous flux: 1100lm (corresponds a 80W bulb)
Light color: 3000K warm white
CRI: 80
Ø operating life time: 40,000 h
Dimmable via: leading edge phase control dimmer (f.e. Bush & Jäger 6523U)
(informations about dimmers)
Protection: IP20 (luminaire for interiors)
Protection class: 1
Dimensions: ØxH: 400x250mm
Height max. 2000mm
Energy class:  A++ to A
LED lamp is non-changeable.
This product is compatible with (for example):